A few weeks ago I was reading a blog where I found out about Orphaned No More.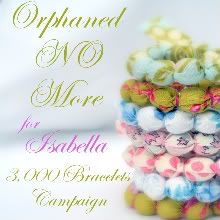 This website has been set up by a family trying to raise money to adopt a little girl with special needs from China. They aren't asking for donations, just for you to buy a beautiful bracelet to help them raise money so that they can go and get their little girl. The bracelets are cute and fun and I think would make great stocking stuffers. I just wanted to let you know about this family and their goal in case you want to help them bring Isabella home.
Sign up to get the latest info straight to your inbox!